Research Experience for Undergraduates Summer Program
The application for Summer 2019 REU program is now open, CLICK HERE TO START YOUR ON-LINE APPLICATION.The application deadline is February 22, 2019.
Since the summer of 2017, the Center for Bioplastics and Biocomposites (CB2), has established a new Research Experience for Undergraduates (REU) site designed to provide undergraduate students a chance to participate in industry-directed fundamental research opportunities in the fields of bioplastics and biocomposites. The students will gain hands-on experience with synthesis, processing, and characterization of biobased plastics and composite materials. The REU program will continue for 3 years, i.e. Summer '17, Summer '18, and Summer '19.
Each year, 10 students (recruited primarily from academic institutions where research programs in STEM are limited) will work on research conducted by the CB2, with 5 students conducting their research at Washington State University and 5 students doing their research projects at Iowa State University.
During the program, the students will participate in a series of bioplastics short courses, have responsibility for an independent research project performed with state-of-the-art equipment and facilities, and engage with leading industry experts from the Industrial Advisory Board of the CB2.
The students will have a shared, well-defined common focus on sustainable bioplastics and biocomposites that will enable a cohort experience with a common orientation in Ames, IA and debrief in Pullman, WA. The cohort will also be part of a larger community of scholars on both campuses, with the research results showcased at Washington State University in a final poster presentation and symposium.
REU Summer Program Flyer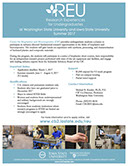 This brochure is an overview of the Research Experience for Undergraduates Summer Program and how to apply.
Point-of-contact for student applicants:
VIKRAM YADAMA
CB2 Co-Director
Washington State University
(509) 335-6261
CB2.REU@wsu.edu
Apply Now
We are now accepting applications for Summer 2019 Research Experiences for Undergraduates.
Application deadline is February 22, 2019.
Program starts on May 29, 2019 and ends on August 2, 2019.
You will be asked to upload your transcript and CV at the end of the application.
Hear What Our Students Say
2018 REU Program (3 minute)
2018 REU Program at Iowa State University (10 minute)
2017 REU Program (3 minute)