IOWA STATE UNIVERSITY
The Biopolymers & Biocomposites Research Team (BBRT) facilities at Iowa State University are designed to develop, test, and scale-up new biobased materials. Through the use of their unique facilities and equipment, they are able to take bench-scale formulations to full-scale manufacturing production.
 Lab Space
Approximately 8,000 square feet of lab space provides ample bench room for workers, equipment, and supplies. The labs include state-of-the-art equipment and offer a full range of thermal analysis and mechanical characterization services. Researchers also have access to and expertise in small angle x-ray and neutron scattering for in situ nanoscale structural characterization.
Pilot Plant Space
Pilot plant space includes 3,000 square feet for industrial products processing. The pilot plant equipment includes a plastic film and sheet extruder, compression and injection molding machines, glue depositing, and mechanical testing equipment.
Equipment
BBRT has a wide range of polymer processing equipment including numerous extruders, injection molding machines and thermoforming systems. In addition, BBRT has extensive thermal and mechanical characterization equipment for polymers and composites. They also have novel fiber processing equipment for the production of graphite fibers. Click here for a complete list of BBRT equipment.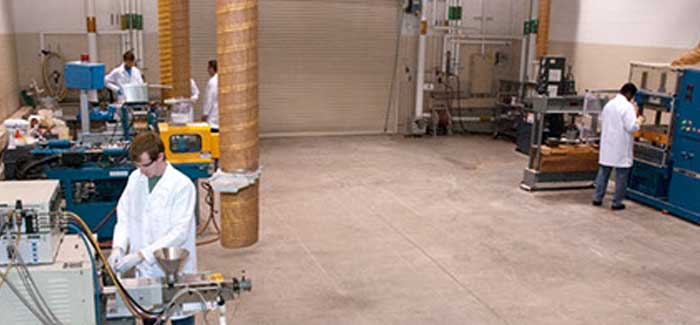 WASHINGTON STATE UNIVERSITY
The Composite Materials and Engineering Center (CMEC) facilities at Washington State University have resources spanning from composite materials characterization, product development, process improvement, to product testing. CMEC is an IAS accredited testing laboratory that meets the highest international quality standards. The 28,000 ft facility houses equipment for furnish generation; sorting, drying, blending, and forming; consolidation; physical and chemical property analyses; materials and structural testing; nondestructive evaluation; and computer-based modeling and analysis. Click here for a partial list of equipment and capabilities.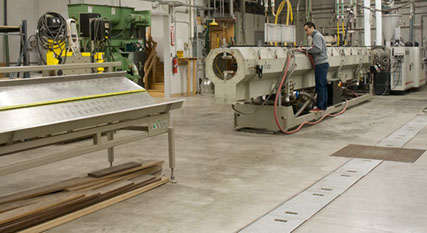 UNIVERSITY OF GEORGIA
The instrumentation toolset available at the University of Georgia New Materials Institute specializes in polymer and composite analysis with a focus on understanding the performance of new materials during processing, service life and end-of-life. Our team's unique approach to partnerships with industry and our motivation to solve the world's most pressing problems with incumbent plastics are central to the processing equipment and characterization instrumentation roster in our facilities.
Additionally, the UGA Office of Research provides an array of complementary Core Facilities and Research Services that are available to researchers at UGA, other universities, government agencies, nonprofit organizations and industry.
The UGA New Materials Institute primarily operates out of the Riverbend Research Laboratory complex, where approximately 3,500 square feet of laboratory space is dedicated to research and development efforts on new and existing materials used in single-use and coatings applications.